Getting crafty with pots
Next time you're planting in terracotta pots, why not run a coat of blackboard paint over them first? With these funky looking pots there'll be no excuse for confusing your herbs – simply use chalk to write the names of your seedlings on them. This is also a great activity to get kids involved in. See who can create the most creative looking pot with coloured chalk.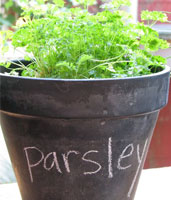 Burning question...



My shirley poppies are growing well but something is eating them?

It will be slugs feasting on your flowers. Try this organic method for getting rid of them.

Click here to email Tod your burning question today.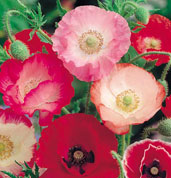 November is a
good time to…

Plant pretty much anything from summer veges to flowering annuals like petunias and alyssum. It's also a good time to fertilise your lawn, mulch your garden and trim and prune your hedges.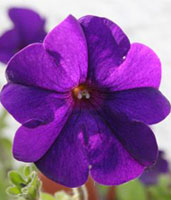 Read on for more details.






Mrs President gets made over



Check out this innovative vegetable vacuum shoot any gardener would love.

Made for some lucky recipients of Extreme Home Makeover. This video features the show's host Ty impressing Michelle Obama with the greenhouse built for female veterans – including the tube which transports veges straight to the kitchen.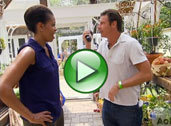 Moving with the times



We've finally done it. We've joined facebook! The plan is to update our page with tips and information on gardening, special deals, news and pics from the nursery, and whatever we think you might find interesting. Check out our page here. And be sure to tell us what you're up to in your garden, and let us know if there's something specific you'd like us to share or do on our page.

In other news, we're proud to be helping out Just Zilch – a free store in Palmerston North that, thanks to various generous suppliers, provides surplus goods to people in need. We're supplying them with seedlings for their garden which is run and maintained by volunteers and provides produce for their shop – or to other community based organisations when they have more than they need.

Until next time, happy gardening!

Henri Ham
Awapuni Nurseries






Crazy about courgettes



Mmmm courgettes – otherwise known as zucchini. Stuffed, roasted, baked, barbecued or thrown into a simple stir-fry - they're certainly a versatile veg and a great one for the garden.

The important thing to note about cultivating courgettes is they like to be in a nice, sunny spot with plenty of drainage. But, I have to say, they're a little fussy - they don't like getting their leaves wet because it tends to spread diseases, so stay away from overhead watering.

Instead, water around the plants and surround them with pea straw so they don't sit on the ground.

Just like human babies, newly planted crops are a bit unstable and need some protection. I like to cut a milk container and put it over the top of the plant (until it gets established) to stop the wind blowing around. But don't forget to leave a hole open at the top.

Click here for more details.






Capsicum seeks tomato for friendship and more



If you followed my advice and planted tomatoes last month, it's time to play matchmaker and introduce them to the trusty capsicum. It's another summer favourite of mine - light, fresh and full of vitamin C. The two summer plants grow well together where it's sunny and dry, and out of the wind.

You'll be pleased to know capsicums don't need a lot of love and attention. They can actually grow in quite confined spaces and thrive with little watering.

For easy access, or if you don't have a proper garden, why not grow your capsicums in terracotta pots on the deck? The brightly coloured fruit - red, yellow and green - looks fantastic against the dusky, desert red of the pots.

And, if you want to get the kids in on the action, get them to paint a pot and help you with the planting. You can bet they won't be picking the pepper off their pizza after all that fun.

If you're a fan of hot and spicy fare, keep in mind they also grow well with chillies, as the two plants develop in the same way. And, when they're both done, throw them into a guacamole for a tasty snack.

So, get down to your local Bunnings, The Warehouse or supermarket and pick up some capsicum seedlings.

Click here for more details.





Thinking colour? Think impatiens



Just because the shady spots in your garden are free of sun, that doesn't mean they should be free of colour and interest. In fact, impatiens grow really well in shady areas, and come in a range of bright colours to liven up any dark corner.

From pale pink to vibrant orange, Awapuni has a range of shades in their Traditional Value and easy-plant Pop 'n' Grow seedling ranges.

To get started, pop into your local Bunnings, The Warehouse or supermarket to pick up the seedlings.

Or take the easy option and head to our online shop to get them delivered straight to your door. Purchase six or more items and get free delivery to a non-rural address or pay just $4 for delivery to a rural address.

Once you've got your seedlings, pop them into hanging baskets filled with potting mix to add a splash of colour right around the house and garden.

Lastly, be sure to use slug bait to keep pests away and pick off dead flower heads to encourage new ones to grow.