Taking the hard work out of gardening
Here at the nursery we often get asked why people should buy seedlings over seeds. Well the answer is simple – buying seedlings takes the hard work out of gardening. Seedlings are growing and alive, while seeds may or may not germinate depending on the quality of the seeds and the conditions in which they're planted.

Seeds are more sensitive than seedlings to soil temperature, water, light and humidity. When you plant seedlings in the ground they are already ahead of any weed seeds that may germinate.

Lastly, seeds are a tasty looking snack for slugs and snails, but also birds. So next time you're looking for new plants for your garden, why not let us do the hard growing yards first, and buy our Pop'n'Grow or Traditional Value seedlings.





Burning question...



My petunia garden looked great for the first couple of weeks after I planted it but then it started to die gradually. What's wrong?

Your petunias probably have Botrytis or grey mould. To prevent Botrytis it's important to avoid letting your plants (usually seedlings with fleshy flowers) get damp and cold (avoid overhead watering as it will spread the fungus) for very long. To fix the problem spray the plants with a fungicide and remove the affected flowers or leaves, or the whole plant if it's infected at the base.

Click here to email Tod your burning question today.



January is a
good time to…

Mulch and water. Getting your plants to stay healthy during summer can be tricky – particularly if you go on holiday. One trick to reduce the need for watering is to apply mulch around your garden. Mulch protects the soil from heat and provides a cooler soil temperature, which enables roots to pump water efficiently. If the soil is dry when you poke your finger into the ground, it needs more water.

Water either early in the morning or evening when the outside temperature is cooler. This will allow the water to soak into the soil and not dry out as quickly. If you're going on holiday you might have to rely on automatic sprinklers, but if not, it's preferable to water by hand so you can aim at the roots. Your plants will absorb the water better this way and it encourages deeper root growth. Try not to over-water as it can rot your plants.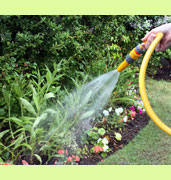 Get your groove on in the garden



Recently Guardian blogger Jon Dennis asked readers to 'flex those green fingers and suggest songs about gardens'. Jon then pruned the list to unveil the best of the blooms. Click here for his final list of songs inspired or written about gardens.




Happy New Year!



This month I'm going to keep my blurb in the newsletter short and sweet. Hopefully you're too busy outside enjoying summer and getting in a bit of gardening to be inside on the computer. I'm looking forward to making the most of the good weather later in January when my family and I head up to Martin's Bay near Warkworth for a break. But before then I'll be attempting to out race my competitors at Feilding's Manfield racetrack as part of the 2012 Super Kart races on 7 January! (Check out my kart to the right). I hope you had a safe and happy Christmas and New Year.

Happy gardening, and remember to water!

Henri Ham
Awapuni Nurseries






Bean going crazy lately?



January - right smack bang in the middle of school holidays. Personally these are my favourite holidays of the school year. The weather is good, we usually take our longest vacation at this time, and the kids spend their days keeping busy outside. But there are definitely days when you need a trick up your sleeve to keep the rug rats entertained.

As many of you will know, I'm a huge proponent of getting kids to grow their own veges to encourage healthy entertainment and eating. So of course, when my kids come to me saying they're bored I get them engaged planting something or another.

At this time of year, I'm a big fan of getting the whole family involved in growing dwarf green or butter beans. This healthy snack food is easy to grow, fun to harvest and tasty to even the smallest people in your home. You can purchase Awapuni's Traditional Value dwarf green or butter beans from your local supermarket, Bunnings or The Warehouse. Alternatively, head to our online store and get them delivered straight to your door.

Our seedlings are great for planting with children because they can be unwrapped, separated and prepared for the soil without breaking the roots. They're child's play to plant and grow!

Read More






Hedge your bets with lovely lavender



Looking for a scented, flowering plant to create a hedge around your garden? Planning on planting in a sunny, well-drained area? Well, do I have the plant for you?!

French lavender, otherwise known as dentata lavender grows to around two metres tall (if left to its own devices), has long stems of blue flowers, and a lovely, sleep-inducing perfume.

It's grey/green foliage, pretty flowers and vigorous growing make it the perfect plant for hedging. And if straight perimeter hedging isn't your thing, this well-known lavender can be trimmed into any shape.

The other nice thing about the dentata variety is that it flowers in both winter and summer.

Read More





Hay vs straw



Last month Tod advised a Cultivated News subscriber that hay would work just as well around their strawberries as straw – but they would need to watch out for weeds. Phillip, another subscriber, emailed us with this tip for using hay as mulch. "To get around the seeds/weeding requirement, I buy a number of bales of hay and store them under a tarpaulin for at least a year – usually two to three – before using. This dramatically lowers the germination potential of any grass seed etc. After passing it through a chipper/mulcher to chop up the volumes I use, it spreads perfectly around strawberries, blueberries, under tomatoes, around onions etc."
Thanks Phillip!





Lavender – anything but stock standard



Keen to up the ante with your lavender? Why not plant it as a standard in a pot? Standard plants, otherwise known as 'balls on sticks', are not hard to train and make great container plants. They are usually expensive to buy, but it's very easy to create your own.

There are two ways to make a standard lavender – a 'single stem' or by plaiting 'three stems' together. A note to the wise – always use the French dentata variety as it grows quickly.

Single stem
Prune your lavender as you would a pine tree in a forest, pick a strong central stem and as the plant grows prune off the bottom side branches. You may need a stake to keep the plant nice and straight. Always leave enough branches at the top of the plant as these are required to give the plant energy for growth and they will ultimately form the mop top.

As the plant gets taller keep removing the bottom branches.

When the plant reaches a height you are happy with (this will depend on the size of pot and could be as low as 40cm in a 14cm pot), pinch out the growing tip at the top of the plant and the growing tips from any side branches of the 'mop top' to be. This will encourage bushier growth. Remove any branches that may be growing up the stem.

Rub off any growth growing up the stem to the height where you want to create the mop top. (Tip: take care not to tear the bark.)

When the mop head of the standard is eventually bushy enough, clip it back to form a ball or allow it to take a natural umbrella-like shape. Clip when flowers have finished.

Read More