History
As a bold and independent Dutch emigrant, Ton Ham left his native Holland in 1960 to come and settle in New Zealand. He initially found work on a poultry farm and then served a brief term making cheese and butter at a dairy factory in Palmerston North.
After meeting fellow Dutchman Henk Brookes, Ton went to work at a small business owned by Henk called Brookes Nurseries. Ton, who was eager at this stage to run a business of his own, negotiated with Henk and bought the nursery from him about 12 months later.
After a few years, Ton decided to invest in a 10-acre plot of land a few kilometres south of Palmerston North. This land would be vigorously developed and transformed to house the nursery as it appears today.
In the mid-1990s Ton and his wife Lea sold the business to sons Paul and Henri, who are dedicated to continuing the high standard of quality and service set by their parents.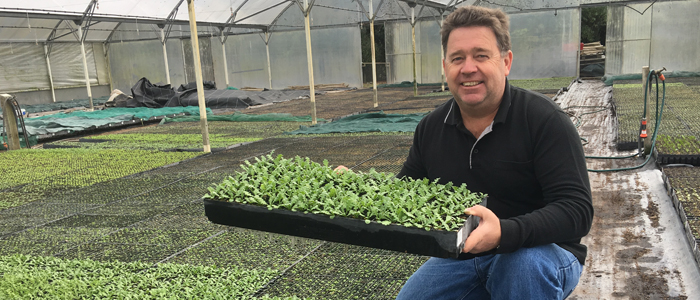 Present
Since its inception as a two-man company serving Palmerston North and its nearby regions, Awapuni Nurseries has grown substantially. It now employs more than 50 team members and relays the majority of its trade throughout New Zealand via leading chain stores. Customers can also browse and purchase an unrivalled selection of seedlings online and have the plants delivered direct to their door – a favourite option for many of Awapuni's rural customers.
And, to ensure those seedlings get the best head start, Awapuni Nurseries has made available to all Kiwi gardeners a mountain of gardening resource online, here at www.awapuni.co.nz.
For everything you need to know about growing a healthy, abundant and bountiful garden visit our My Garden section. Awapuni Nurseries' regular gardening editorial, published in many of New Zealand's daily and community papers, is available here. Novice (or experienced!) gardeners can also visit this section to ask us any gardening related questions.
For those who want regular gardening information delivered right to their inbox, click here to check out our monthly electronic newsletter, Cultivated News. The newsletter is jammed-packed full of step-by-step gardening information.
Lastly, the team at Awapuni Nurseries is always keen to hear from existing or would-be customers. If you have a question, comment, or suggestion on how we could add value to your gardening please click here to contact Awapuni Nurseries. Or, if you're ever in the Manawatu feel free to drop in to the nursery on Pioneer Highway and say hi.
Happy Gardening!